Michigan DUI Lawyer Paul J. Tafelski (https://www.michigandefenselaw.com/blog/stiff-penalties-for-underage-drinking-and-driving-in-michigan/) of Michigan Defense Law has recently released an informative article shedding light on the severe consequences of underage drinking and driving in the state of Michigan. Tafelski's article emphasizes the "zero tolerance" law in Michigan, which strictly prohibits individuals under the age of 21 from operating a motor vehicle after consuming any amount of alcohol.
Under Michigan law, drivers under the age of 21 can be charged with Operating While Intoxicated (OWI) or Driving Under the Influence (DUI) if their blood-alcohol level exceeds 0.02. If the blood alcohol level exceeds 0.08, the more serious offense of driving while intoxicated can be applied. The Michigan DUI Lawyer warns that these offenses carry significant penalties, even for first-time offenders.
In his article, the Michigan DUI Lawyer outlines the potential consequences of underage OWI/DUI in Michigan. He explains that a first offense can result in a fine of up to $500 and a sentence of up to 360 hours of community service work. Additionally, the offender's driver's license may be suspended, leading to increased automobile insurance rates. Tafelski highlights that the penalties can be even harsher if there is a passenger under the age of 16 at the time of the offense. Subsequent offenses carry enhanced penalties, including possible prison time.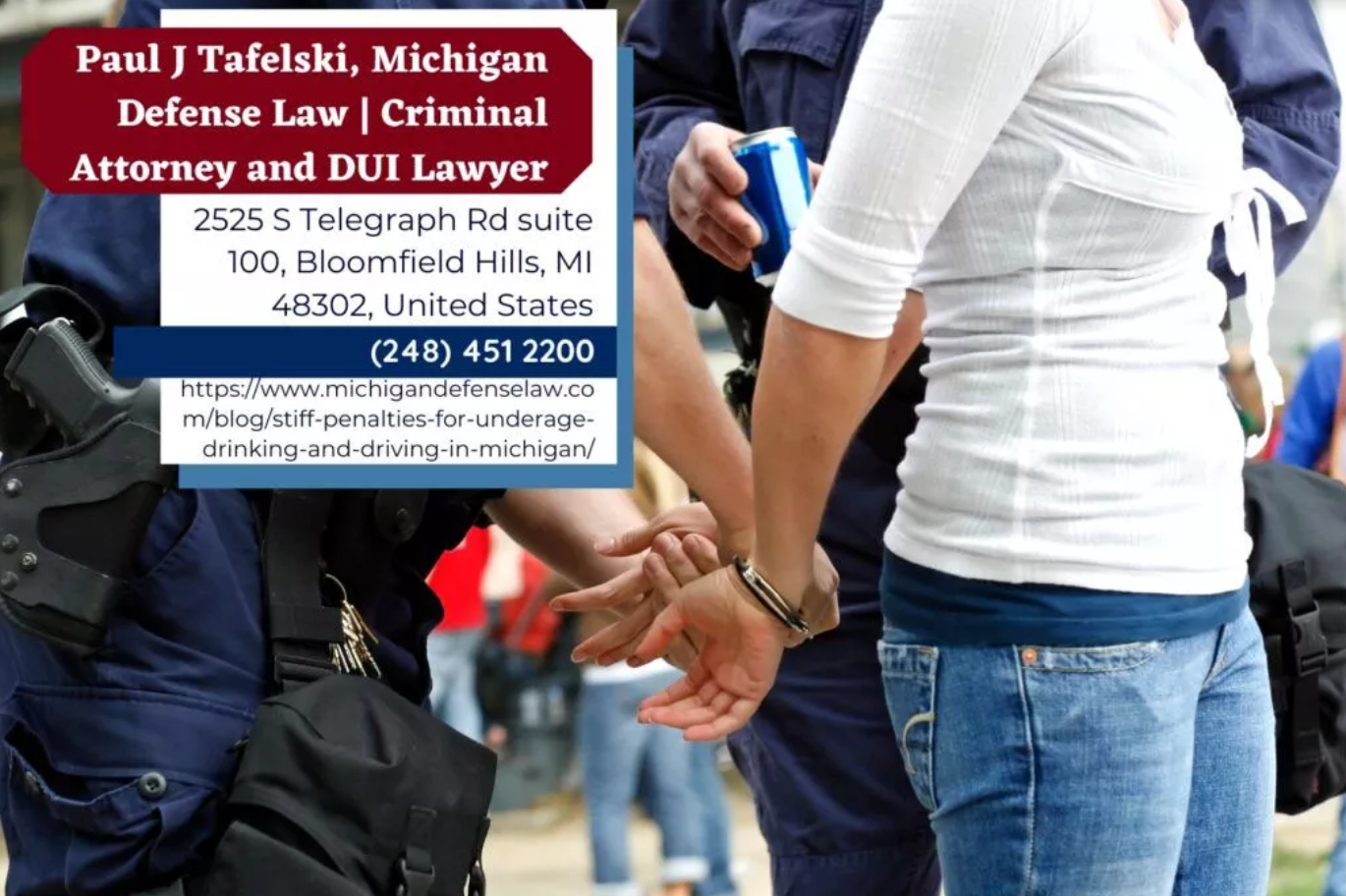 "Underage drinking and driving is a serious offense with significant repercussions," states Tafelski. "It is crucial for young drivers to be aware of the strict laws and the potential consequences they face if caught driving under the influence of alcohol. Seeking legal representation is essential to navigate the complexities of the legal system and protect one's rights."
The excerpt from the Michigan statute provided in Tafelski's article reinforces the zero-tolerance policy for individuals under 21 operating a motor vehicle with any alcohol content in their system. The law makes it clear that even a minimal blood alcohol content can lead to legal repercussions.
According to Tafelski, "In 2011, there were 38 alcohol-impaired driving deaths in Michigan involving underage drivers. It is vital to raise awareness about the dangers and consequences of underage drinking and driving, with the goal of preventing tragic incidents and ensuring the safety of our communities."
Michigan DUI Lawyer Paul J. Tafelski's recent article serves as a wake-up call for young drivers and their families regarding the severe penalties associated with underage drinking and driving in Michigan. Tafelski urges individuals to take these laws seriously, seek legal advice when needed, and make responsible decisions to protect themselves and others on the road.
About Michigan Defense Law:
Michigan Defense Law, founded by experienced attorney Paul J. Tafelski, is a reputable law firm that provides legal services in criminal defense, DUI defense, and traffic violations. With a strong focus on protecting clients' rights and providing strategic legal representation, Michigan Defense Law is dedicated to achieving the best possible outcomes for its clients. Led by Paul J. Tafelski, the firm's team of skilled attorneys offers personalized attention, extensive legal knowledge, and aggressive advocacy to clients throughout Michigan.
Media Contact

Company Name
Paul J. Tafelski, Michigan Defense Law | Criminal Attorney and DUI Lawyer
Contact Name
Paul J. Tafelski
Phone
(248) 451-2200
Address
2525 S Telegraph Rd suite 100
City
Bloomfield Hills
State
Michigan
Postal Code
48302
Country
United States
Website
https://www.michigandefenselaw.com/