Criminal Defense Attorney Paul Tafelski (https://www.michigandefenselaw.com/blog/difference-no-contact-orders-protection-orders-restraining-orders/) of Michigan Defense Law has released an informative article on the differences between no-contact orders, protection orders, and restraining orders. The article aims to provide clarity on these legal terms and their implications for defendants and alleged victims.
As a criminal defense attorney, Paul Tafelski has extensive experience representing clients in domestic violence cases where no-contact orders are often issued. According to Tafelski, "A no-contact order is typically a condition of bond and that's set by the judge as soon as there's a formal charge filed in almost every domestic violence case." However, he notes that a restraining order or personal protection order is usually issued in a separate action based on threats, stalking, or refusal to stop contacting another person.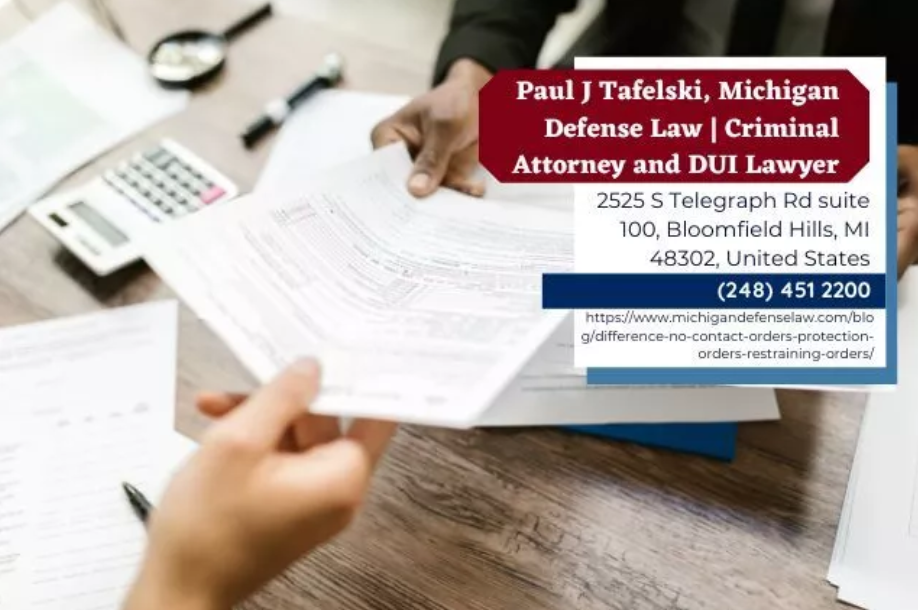 The Criminal Defense Attorney emphasizes that while these orders have similar effects of prohibiting a person from being near or communicating with another person, they differ in their circumstances of issuance. He adds that "The effect of those orders is basically the same but they are technically separate deals for separate issues."
The article also addresses the question of whether the alleged victim's preferences are taken into account when imposing protective orders. Tafelski clarifies that the court can impose these orders even if the alleged victim does not want them and that defendants must be aware of the potential consequences involved in responding to contact initiated by the alleged victim. "You have to be careful because these are very touchy situations. Sometimes things work out and sometimes they don't and people have to be aware of what can go wrong," he warns.
The article provides valuable insights for anyone involved in a legal case that may involve no-contact orders, protection orders, or restraining orders. It highlights the importance of understanding the differences between these orders and the potential consequences of violating them.
Many individuals mistakenly believe that they can engage in contact with the alleged victim without repercussions since they initiated the contact. They often think, "Who's going to know?" However, if the alleged victim later reports the contact to the prosecutor, the defendant could have their bond revoked, even if the alleged victim initiated the contact. As such, individuals must be cautious in these delicate situations and aware of the potential consequences of their actions.
Michigan Defense Law is a leading criminal defense firm in Michigan, with a team of experienced attorneys who are dedicated to protecting their client's rights and interests. The firm has a proven track record of success in handling a wide range of criminal cases, including domestic violence, assault, drug offenses, and more.
About Michigan Defense Law:
Michigan Defense Law is a criminal defense law firm located in downtown Birmingham, Michigan. The firm's experienced attorneys provide aggressive and strategic representation to clients facing criminal charges throughout the state of Michigan. The firm handles a wide range of criminal cases, including domestic violence, assault, drug offenses, white-collar crimes, and more.
Media Contact

Company Name
Paul J. Tafelski, Michigan Defense Law | Criminal Attorney and DUI Lawyer
Contact Name
Paul J. Tafelski
Phone
(248) 451-2200
Address
2525 S Telegraph Rd suite 100
City
Bloomfield Hills
State
Michigan
Postal Code
48302
Country
United States
Website
https://www.michigandefenselaw.com/